The Ebbw Vale Works Archival Trust  - Formed 11th November 2004
 Ebbw Vale Metallurgical and Historical Society - Formed 27th January 1937
Address:
The Ebbw Vale Works Museum,
The General Offices,
Steelworks Road,
Ebbw Vale
Gwent
NP23 6DN
Telephone: 01495 350941
Email: ev_works_at@btinternet.com
Web Site: http://evwat.co.uk/
Also follow us on:
Facebook and Twitter - @EVWorksArchive
Opening times:
 Monday to Fridays 10.00 hrs to 16.30hrs
**Please note**
The Museum will be closed for the Bank Holidays declared
by B.G.C.B.C  whose staff man the General Offices
Charity Commission for England and Wales Registration Number 1107515
* Free on site parking
* Disabled access
* Toilet facilities
* Accompanied children only
* Parties/Groups by arrangement
* G/O Cafe currently closed.
   Refreshments can be purchased at G/O reception.
* Photopcopying facility subject to copyright.
   - there will be a charge for this facility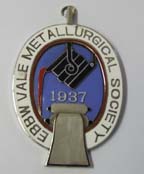 The Museum of a coal, iron and   steel community 1790-2002